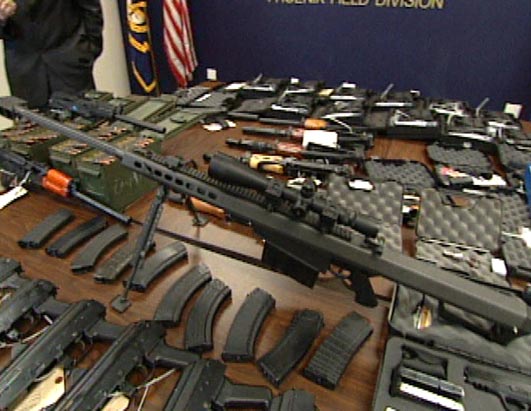 (
Photo: ABC News
) I reckon the drug war in Mexico was one of last years great non-stories in the media - always bubbling away in the background, some good journalism going on, but generally not getting huge attention. I had heard that most of the guns used by the criminals come from sales in the US, but I hadn't realised just in what huge amounts:
...the arms that cartels can and do buy from the open U.S. market -- completely illegally -- leave Mexico's police force and even its military outgunned. There are nearly 7,000 gun shops along the southern U.S. border, about three for every mile. They sell thousands of hand grenades, rocket-propelled grenade launchers, AK-47s, and "cop killer" guns and bullets that cut through Kevlar body armor. The weapons quickly flow south, again with barely a nod from U.S. Border Patrol.
Can I just run that by any American readers - you can buy hand grenades and RPGs in gun shops? That is definitely a "WTF?" moment. The quote above comes from a very interesting piece at
Foreign Policy.com
. See this
ABC News story as well.

I've just had another thought - watch John Stewart
and fast forward to to 4.20.
Everyone is doing the "if missiles were being fired from (insert you neighbour here) into (insert your city here), wouldn't you respond?" The Israeli ambassador to Finland was saying this the other day for instance. It's a fair enough question - and maybe the answer is yes. But how does that look from the Mexican government's point of view? "If hand grenades and cop-killing high powered hand and machine guns were flowing into your country from suppliers across the border in your neighbour - wouldn't you respond?"